Welcome to Rodney Moore's

BBW FANFEST BIGGIE AWARDS BEST
DVD SERIES 2013, 2015 & 2016 AWARD WINNER!
Home of one of the Largest Collections of
Original Chubby Girl Content in the World.
ENTER

By clicking on the "ENTER" above, I state that I am over the age of 18 years and I am an adult as defined by the laws of the location in which I am currently located. I have read and agree to all the TERMS AND CONDITIONS below for authorized access to, and use of, this web site.

EXIT


WARNING!

THIS WEB SITE CONTAINS
AGE-RESTRICTED MATERIALS.
ACCESS IS LIMITED TO ADULTS ONLY!

MEMBERS
Rodney Store

DO NOT ENTER if you find sexually oriented material offensive.
TERMS AND CONDITIONS
Accessing this web site or any parts thereof without permission comprises intentional unauthorized access of computers and data in our databases. Any such access to our computers, our agent's computers or our databases in excess of the permission we give you violates state, federal and foreign laws, including, without limitation, The Electronic Communications Privacy Act, 18 U.S.C. '' 2701-2710, The Computer Fraud and Abuse Act, 18 U.S.C. ' 1030 and The California Comprehensive Computer Data Access and Fraud Act, Cal. Penal Code '502.

Unauthorized access to this web site also constitutes one or more intentional infringements of our copyrights in the materials depicted on our web site.

If you are under the age of 18 years, or under the age of majority in the location from where you are accessing this message, you do not have authorization or permission to enter this web site or access any of its materials. Consequently if you are under the age of 18 years and proceed further you will be engaging in the unauthorized and unlawful access of our computers and data in our computers, and the infringement of our copyrights.

If you are over the age of 18 years or otherwise over the age of majority in the location from which you have accessed this web site, you may enter this web site and access our computers and data ONLY if you agree to, and comply with, all the TERMS AND CONDITIONS for use of the web site including the prohibitions against accessing this web site from specified areas and/or zip codes listed in the TERMS AND CONDITIONS and here as PROHIBITED ACCESS AREAS. You also acknowledge and agree that you are not offended by nudity and explicit depictions of sexual activity.

By clicking the "enter" button on this page, and by entering this web site you agree with all the above and certify under penalty of perjury that you are over the age of 18 years and that you are an adult as the term "adult" is defined by the laws of the location in which you are currently located.
PERFORMERS DEPICTED ON THIS WEB SITE AND THE CHARACTERS THAT THEY PORTRAY WERE ALL OVER 18 YEARS OF AGE AT THE TIME OF THE PHOTOGRAPHY AND VIDEOTAPING. THE CONTENT IS INAPPROPRIATE FOR MINORS AND APPROPRIATE CARE SHOULD BE TAKEN TO INSURE THAT IT IS NOT VIEWED BY ANYONE UNDER 18 YEARS OF AGE. NO ONE IS ALLOWED ACCESS TO THE EXPLICIT CONTENT OF THIS SITE WITHOUT FIRST VERIFYING THEIR AGE OVER 18 VIA A VERIFIED CREDIT CARD.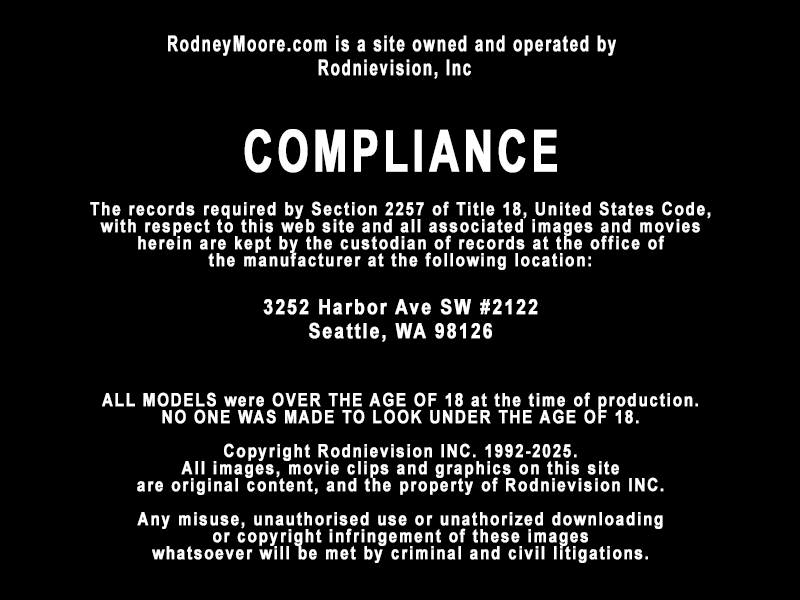 THE DATE OF REISSUANCE IS TODAY ACCORDING TO APPLICABLE (STANDARD OR DAYLIGHT) UNITED STATES PACIFIC TIME.